Saint here again, for an update.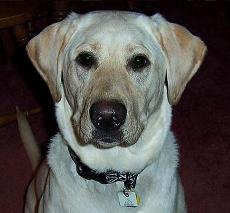 Today after the old dame got home from work we played out back for a while and then she put the training collar on me and we did a little work on the cul-de-sac. In spite of what she said yesterday I didn't really think she'd go for it today--it's 100 degrees outside and with the humidity the heat index is 110. I guess she was "highly motivated".
Heh, I was perfect. I wasn't just perfect, I was better than ever. I like to mess with her mind like that now and again. I didn't pull once, didn't sniff the ground, stayed right by her left knee and did all the turns. I sat and layed down and I even stayed down and quiet while Macy, the bit of fluff that lives across the street, came up the cul-de-sac and lunged at me. Like you could tell--nobody cares if you pull on the leash when you're a toy poodle. Thanh, her owner, was talking on his cell phone, smiling, waving--he didn't even break his stride.
The old dame thought I'd forgotten everything, hah. Nah--I just didn't think she cared about that stuff anymore. I haven't forgotten, in fact it was fun. And I got cookies. Life is good.