Yes, I know McCain has pulled ahead in the polls. Yes, I'm as depressed as the most depressed of you. Let's hope it's temporary.
I'm back in Salisbury. When I was here in June I didn't bring my camera, so today I wandered around town snapping photos. First, proof that, unlike my experience in November of '06, this time I caught the bus to Woking: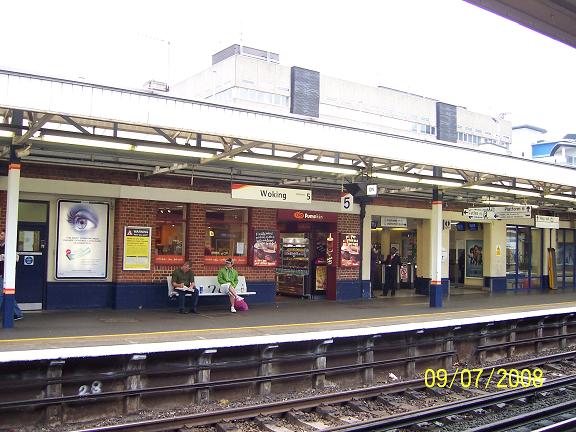 Chrissy: there are two bead shops in Salisbury. I went in one of them; it's a tiny place called the "Mole Hole".
Mike: there's a Subway on Market Square. I had lunch there today.
Before I go any further, an anecdote: Mike doesn't like to travel, so he says. Never mind his having spent a summer in Beijing. When we do travel, he doesn't want to go to any country where he doesn't speak the language, and he doesn't want look like a tourist. Consequently we spent three weeks in the UK in 2001 and ten days in Ireland in 2004. In the UK Mike and I blend in so well that locals ask us for directions. We were sitting in a restaurant in Dublin one evening when a guy walked in who looked so much like Mike that it startled me. But even there, Mike was careful to avoid wearing anything that would make him "stand out". At one point I became so exasperated that I told him I couldn't stand out if I tried. I told him I could walk down the street with a camera in one hand and a map in the other and I wouldn't stand out as a tourist. Today that statement was proven to be true. I was standing on a street corner here in Salisbury with my camera hanging around my neck, staring at my small map of the city. A fellow approached me and said, in a heavy British accent--one of the more difficult accents for me to understand, like Cockney or something--"'xcuse me, do you live around 'eah?" I wanted to say: do you not see my map? but instead I just said no, and then, because I've been here several times and have cased the joint pretty well, I thought "what the hell," and asked him what he was looking for. He was looking for a clothing store so I pointed toward the center of town, where there are quite a few clothing stores although maybe not the kind of thing he had in mind. Anyway...
Okay, more pictures. I'm not going to post pictures of the major attractions around here. You can easily find better pictures than I can take of the cathedral, and having been there several times, I didn't go there today. Nor did I go to Stonehenge, which Mike and I saw in 2001. Yeah it was quite a while ago but the rocks don't change much. When I posted back in June I described the 700-year-old Haunch of Venison pub/restaurant; here it is: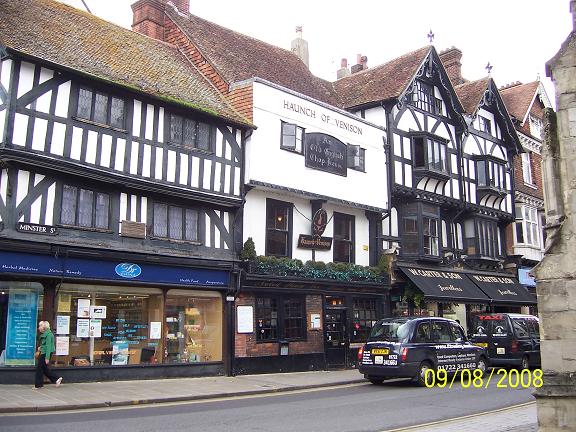 The hotel I'm staying in, the Red Lion, is older than the Haunch of Venison. It's about 800 years old and claims to be the oldest hotel in Europe. It has a great atmosphere, although the room I was originally booked in had no hot water. Enh, when you retrofit for running water, endless problems. As are most of these old places, it's supposedly haunted.
A river runs right through the town, and today it seemed crowded with swans and ducks. I took this picture when a couple of kids crouched down by the railing and fed them: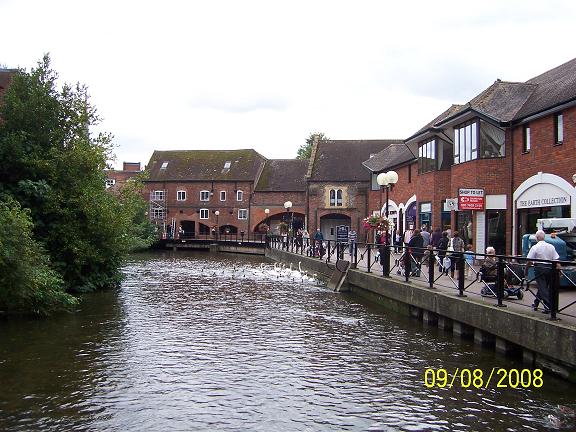 This old place is now a wine shop: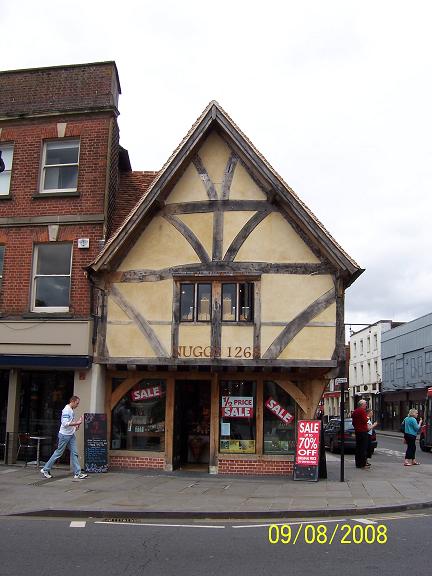 These large flower planters are all over town. They were in bloom in June and are still in bloom now: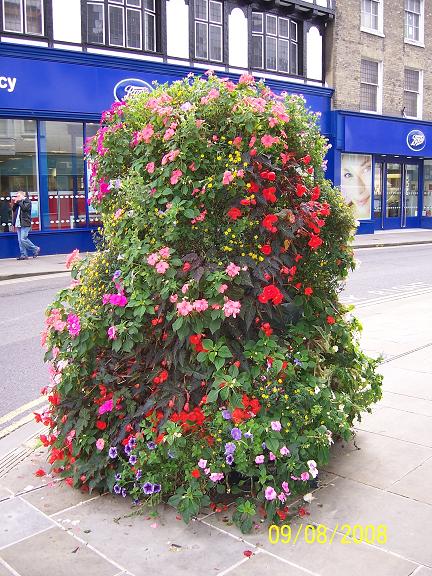 I'll post one more picture for now: the view from the inside of Starbuck's (heh):